Converting Waste into Regenerative Fuel™ to scale alternative energy innovation and improve planetary health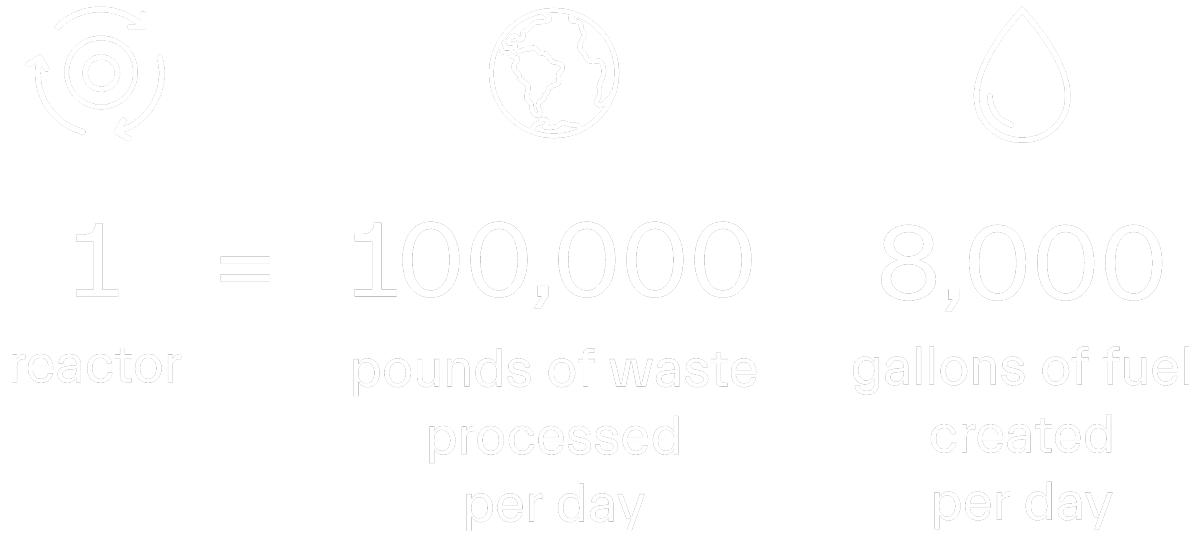 Accumulated waste represents one of the largest untapped energy sources on the planet.
Our eco-friendly Regenerative Fuel™ system (RFS) converts high volumes of waste into fuel and other valuable material that is recycled for new uses.
Using waste for fuel conserves natural resources, reduces methane from landfills, produces cleaner fuel and reduces CO₂ emissions.
We re-engineered waste-to-fuel technology to work on a global scale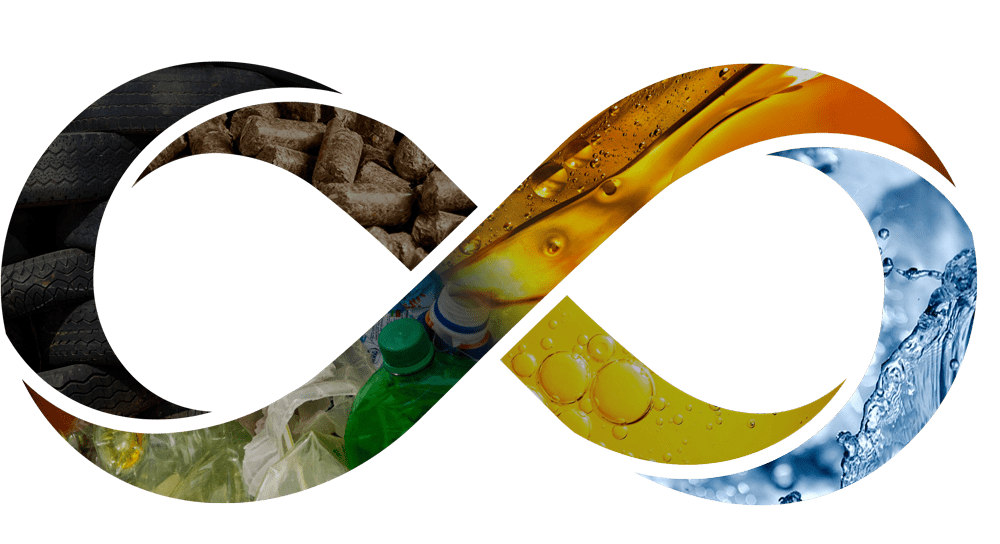 High-Volume
24/7 continuous-feed design; Automated closed-loop system
Scalable
Can stack multiple reactors in one facility
Transportable
Modular design and small footprint
Adaptable
Accommodates multiple types of feedstock
Customizable
Can adjust ratio of outputs based on market demands
Eco-Friendly
Negligible emissions; Syngas is recycled within the system
Converting just 2% of the 13 billion hectares of available fertile land globally would yield 142 billion gallons of biodiesel. That is three times the total consumption of fuel in the U.S. every year.
Replacing all fossil fuel diesel with biodiesel in just the U.S. alone would have a 38% reduction in carbon dioxide emission (176 million tons) than if the biomass were to be burned.
One RFS per year can convert:
33 million pounds of biomass into 2 million gallons of biodiesel and 9 million pounds of biochar for soil remediation and carbon sequestration.

One billion tires are scrapped yearly. 300 million of those (one per person) are in the U.S.
32 million tires are buried every year, not including those that are dumped illegally or stockpiled. Buried tires do not decompose and they can leach chemicals into our soil and water systems.
One RFS per year can convert:
Over 1.5 million tires into 2 million gallons low-sulfur diesel or jet fuel and 12 million pounds of carbon black for industrial materials and printer ink.
In the last 65 years, the world has produced more than one ton of plastic for every person alive today. In the next 20 years, this is expected to double.
About 20% of global plastics is openly burning, releasing toxic aerosols into the atmosphere and emitting 16 million metric tons of greenhouse gases per year.
One RFS per year can convert:
33 million pounds of plastic into 3.6 million gallons low-sulfur diesel or jet fuel and 200k pounds of asphaltene for road paving and roofing shingles.

Our proprietary Regenerative Fuel™ system is capable of converting 50 tons of waste per day through a closed-loop process that creates the purest possible outputs with no emissions during continuous running conditions.
Reactor Skid
The Reactor Skid is responsible for breaking down feedstock into gas and solids. Mechanically processed feedstock is fed through a hopper system into one end of the reactor, where the feedstock is exposed to a high-temperature, oxygen-free environment that causes it to be thermally processed into gasses and solids.
Control Center
This is where the entire process is monitored and controlled. Due to changes in feedstock, environmental conditions and output needs, the entire system needs to be monitored to ensure safe processing and maximized commodities.
Condenser & Diesel Skid
The Condenser and Diesel Skid condenses most of the gas from the "Reactor Skid" into a liquid oil. Further processing of the oil results in various potential liquid fuels, including diesel. The liquid fuel is pumped out of the skid for transportation to the buyer or may be used on-site to run equipment.
Equipment Skid
The Equipment Skid is where the gas from the Reactor is processed, cleaned, and fed back to the reactor to serve as heating fuel for the Reactor's heating system. This process allows our entire system to be emission-free during the majority of the continuous running of this system.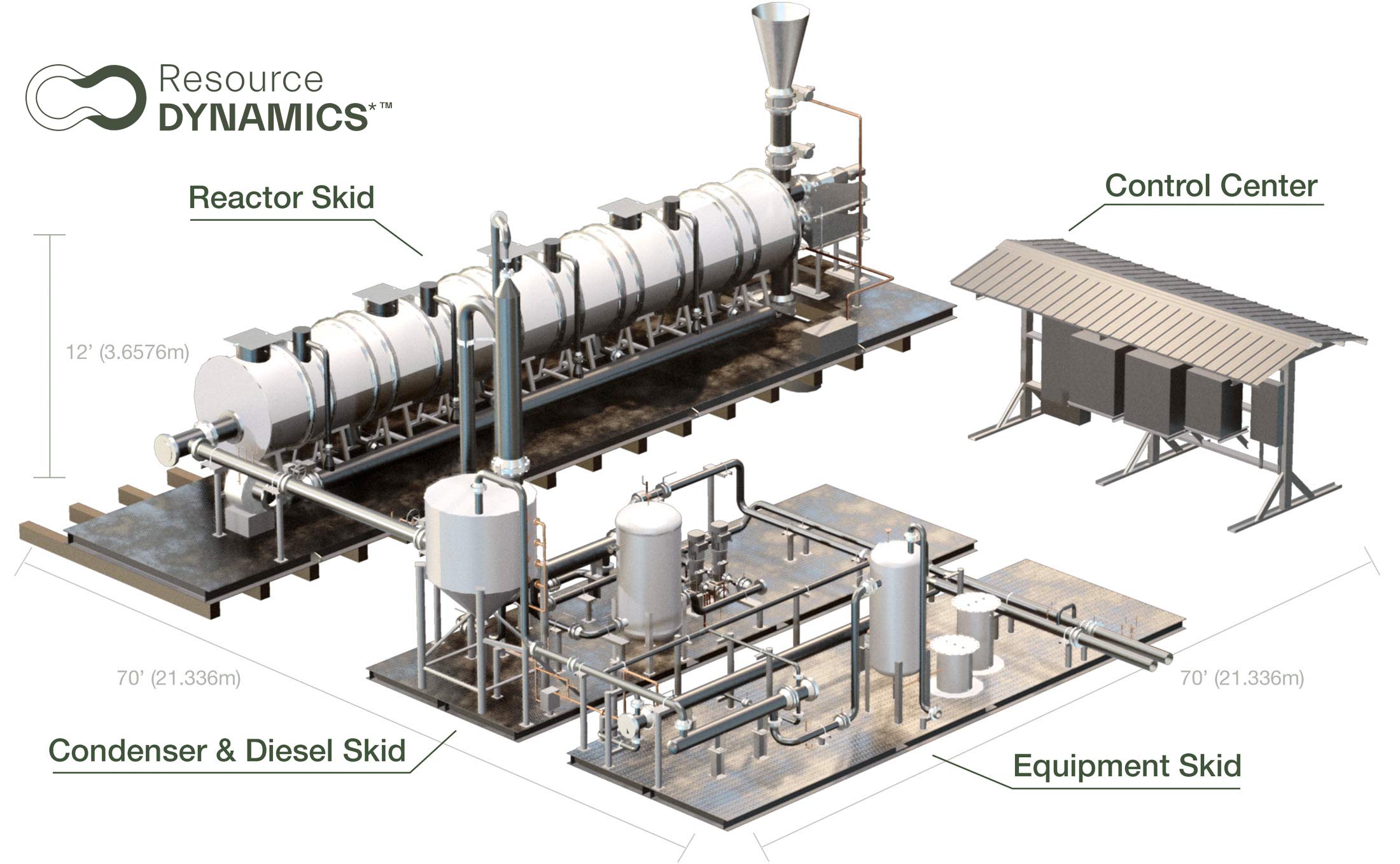 The new global energy system is powered up and ready
Our aim is to liberate the massive energy source in the form of waste on this planet and provide energy independence at the community level and at scale.
Investment Partners
We are scaling quickly!
Reach out to learn more about investment opportunities.
Feedstock Providers
We are looking for waste management, recycling and agricultural partners who want to learn how your feedstock can be converted into marketable commodities.
Industry Insiders
We are collaborators who thrive on connecting with other energy innovators and service providers looking to support far-reaching solutions to our global challenges.
Media Inquiries
We are lining up interviews to share more about Resource Dynamics*™. If your platform or audience would be excited about our work, we'd love to learn more and start a dialogue.
© 2023 Resource Dynamics*™     A Seraphic Group Company